Protect Your Business from Damage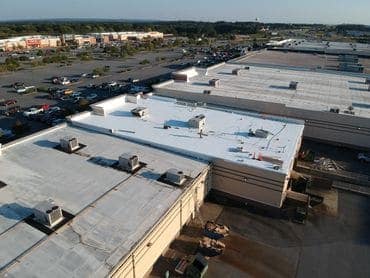 Avoid a Full Roof Replacement
When you're running a business, a roof replacement can cut into your business operations and productivity. If your roof only has minor damage, it's important to take action as soon as possible because even small leaks can lead to big problems like mold, rotted framing & sheathing, destroyed insulation, and damaged ceilings. If you're proactive with your roof repair, you could save money by avoiding a total replacement.
Why Not Just Do it Myself?
Technically, you could head to the hardware store and buy some materials, then watch a couple of YouTube videos to try making your roof repair a DIY job.
However, choosing this method fails to get to the root of the problem. Chances are, you'll have to climb back on your roof in a year (or sooner) to attempt to fix the same problem. Not to mention that in the long run, you aren't saving on roof repair costs.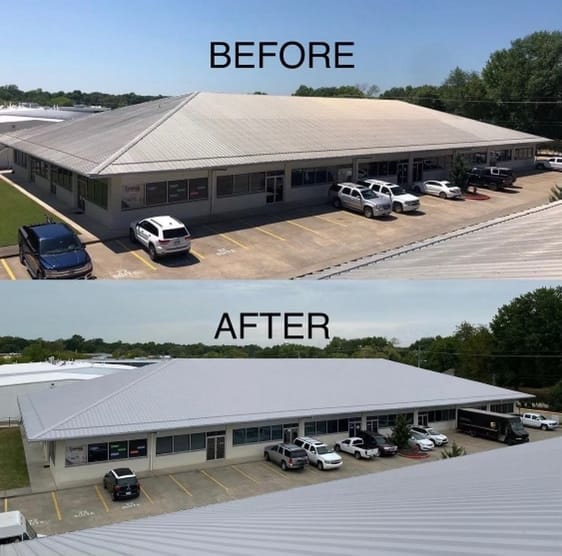 Signs You Need a Commercial Roof Repair
There are several things you should look for that may signal it's time for you to schedule a repair for your commercial roofing system:
Areas of standing water on your commercial flat roof are the first sign your roof may have drainage issues. When rain, ice, and snow can't properly run off it can lead to leaks, rust, rot, and even collapse. It's important to address any drainage issues as soon as you notice them to prevent further damage.
Cracked or Damaged Roofing Membrane
The top layer of your roofing system is the primary barrier between your business and the elements. If there are any cracks, flaking, or peeling, your roof needs to be repaired immediately. If left unattended, these minor issues will lead to costly problems.
Bubbling on the Surface of the Roof
Bubbles and blisters on your roof's surface can be a result of high heat and humidity and can allow moisture to penetrate the roof of your business. It's important to address these sooner rather than later to ensure the damage doesn't spread and cause a larger issue.
If you've noticed an unusual increase in your heating and cooling bills, there's most likely a leak somewhere in your building. Poor insulation or roof leaks are a common culprit of lost air and can lead to other problems if left untreated.
Trust Us for Roof Repairs
We pride ourselves on employing the best in-house roofing contractors in the state. Our roofers are master-certified, licensed, and bonded.
In addition, we don't take your trust in us being around your business lightly. That's why we ensure that every member of our team is professional and trustworthy, giving you one less thing to stress about throughout the roof repair process.
Satisfied Customers Across the State
This company did an excellent job! Very professional! My roof looks great!
– Angela Sewell


Drew with Collier Roofing provided excellent service. They had to come to my house on multiple trips and maintained a professional attitude through everything. I high recommend them if you need roofing / gutter repairs.
– David Campbell


I've used Collier Roofing for two different homes and am so pleased! Their customer service, responsiveness and fair pricing make them my top pick for any roofing or gutter service.
– Amanda Wagler


We're Ready to Repair Your Roof
If you think it may be time to repair your roof, it's best to take action sooner rather than later. Contact us today for a free roof inspection so we can give you an estimate and get the job done as soon as possible!