Commercial Roof Replacement
The Roofing Contractors You Can Trust
Is It Time For a New Roof?
Are you wondering if it's time for a new roof? If your roof is over 20 years old, has apparent damage, is sagging or rotting, or has moss growth due to built-up moisture, it's probably time to consider a commercial roof replacement.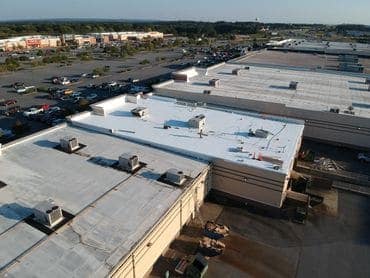 Does My Roof Need a Repair or a Replacement?
We solve similar problems with roof repairs and replacements like minor isolated leaks, punctured roof membranes, water buildup, and damaged flashing.
However, if, during an inspection, we discover that the problem cannot be fixed through minor repairs and extends over more than half of the existing roof, or we find that the roof replacement cost is less than that of a roof repair, we may suggest a full commercial roof replacement.
Get Your Roof in the Best Shape
Have peace of mind that the roof for your commercial building will be in good shape. Roofing replacement offers many benefits.
Everything You Need To Know About Commercial Roof Replacement
The following categories are all things that you, as a building owner, will need to consider when it's time to replace your commercial roofing system.
Types of Commercial Roofing Systems
There are a variety of different roofing materials and systems to choose from, each affecting total replacement costs. We'll work with you to determine the best roofing material for your building and code requirements.
Built-Up Roofing or BUR Membrane
Built-up roofing, or BUR roofing, is the typical tar and gravel roof system. It consists of multiple layers or piles that enhance its durability. BUR is an ideal choice if you need a tough and cost-effective option.
Metal commercial roofing systems are durable and come with high fire-resistant ratings. They usually include protective layers that prevent rusting and damage from exposure to sunlight, weather, and other factors.
Modified Bitumen roofing consists of layers of reinforced roof fabrics and bitumen. They are fastened to the roof as a two-ply system to ensure maximum stability. They are easy to maintain and include a higher tensile strength when compared to other commercial flat roofs.
Thermoplastic or PVC & TPO Roof Membrane
Poly Vinyl Chloride (PVC) and Thermoplastic Polyolefin (TPO) roofs are lightweight, and resistant to punctures, most chemicals, and bacterial growth, making them ideal for restaurants, hotels, and other businesses that release oils from the ventilation systems.
Size of Roofing Installation
Another thing to consider is the square footage of your roof, as this will affect roofing costs.
The larger your roof's size, the more it will cost to replace your roof since it will require more materials and extra time.
You must also consider the height and accessibility of your roof, as these can also affect the cost of replacement. It takes more time to get the materials to the roof, and roofers must take precautions to ensure they complete the job safely.
The Trusted Commercial Roof Contractor
We pride ourselves on employing the best in-house roofing contractors in the state. Our roofers are master-certified, licensed, and bonded.
In addition, we don't take your trust in us being around your business lightly. That's why we ensure that every member of our team is professional and trustworthy, giving you one less thing to stress about throughout the roof replacement process.
Satisfied Customers Across the State
COLLIER ROOFING DOES GREAT WORK AND CARES ABOUT THEIR CUSTOMERS. I KNOW THIS PERSONALLY FROM A FRIEND THAT USED THEM LAST YEAR.
– Deena Beaty


This is one of if not the best roofing company in the world.
– J & C Gaming


Collier's crew showed up on time, extremely friendly, did an outstanding job replacing shingles and repairing my roof. I was also impressed with the time they took to ensure my yard was free of trash and roofing nails.
– Donald Smith


Wondering if a Roof Replacement is Right for Your Business?
If you think it may be time to replace your roof, it's best to take action as soon as possible. Contact us today for a free roof inspection, so we can give a replacement estimate and get to work on your new commercial roof!